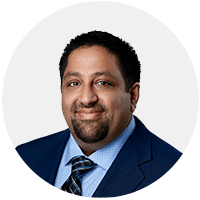 Senior Vice President
Rizwan Virani is a Senior Vice President in alliantgroup's Houston national office and oversees alliantgroup's Energy Incentives practice, which is comprised of energy modelers, engineers, and government relations professionals who help qualifying U.S. businesses claim the Energy-Efficient Commercial Building Tax Deduction (more commonly referred to as section 179D).
Rizwan is an experienced electrical engineer with prior experience in the semiconductor industry. He brings several years of experience and expertise in manufacturing technology, semiconductor process, electrical and mechanical hardware development, and fundamental engineering principals. Rizwan has worked with many of the world's leading semiconductor companies, such as Intel, Samsung, AMD, and Micron. His work involved developing semiconductor hardware and processes based on specifications and requirements defined by the client. Prior to joining alliantgroup, Rizwan was a project engineer and consultant for one of the largest semiconductor capital equipment makers.