by alliantgroup staff, Houston, TX (International Headquarters)
June 4, 2015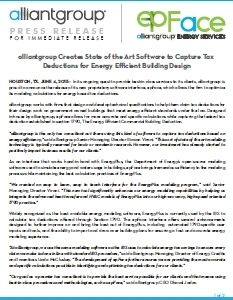 In its ongoing quest to provide best-in-class services to its clients, alliantgroup is proud to announce the release of its new proprietary software interface, epFace, which allows the firm to optimize its modeling calculations for energy based tax deductions.
alliantgroup works with firms that design and develop technical specifications to help them claim tax deductions for their design work on government owned buildings that meet energy efficient standards under the law. Designed in-house by alliantgroup, epFace allows for more accurate and specific calculations while capturing the federal tax deduction established in section 179D, The Energy Efficient Commercial Building Deduction.
"alliantgroup is the only tax consultant out there using this kind of software to capture tax deductions based on energy efficiency," said alliantgroup Senior Managing Director Rizwan Virani. "This sort of state of the art modeling technology is typically reserved for basic or academic research. However, our investment has already started to positively impact business results for our clients."
As an interface that works hand-in-hand with EnergyPlus, the Department of Energy's open-source modeling software used to simulate energy and water usage in buildings, epFace brings tremendous efficiency to the modeling process while maintaining the best calculation practices of EnergyPlus.
"We created an easy to learn, easy to teach interface for the EnergyPlus modeling program," said Senior Managing Director Virani. "This new tool significantly enhances our energy modeling capabilities by helping us integrate the advanced heat transfer and HVAC models of EnergyPlus into our high-accuracy, high-speed oriented 179D practice."
Widely recognized as the best available energy modeling software, EnergyPlus is currently used by the IRS to calculate tax deductions offered through Section 179D. The epFace interface offers several enhancements designed to further improve on and bring the best out of EnergyPlus, including automated 179D-specific user inputs and tools, and the ability to import and draw over building plans for ensuring a fast and accurate energy modeling experience.
"At alliantgroup, we use the same modeling software as the IRS uses to calculate energy tax savings to ensure every claim we make is done in line with standard IRS procedure," said alliantgroup Managing Director of Energy Credits and Incentives Linda McCluskey. "The development of epFace further ensures we are providing the most accurate and specific calculations possible in identifying and optimizing tax deductions for our clients."
"Our goal as a premier tax consultant is to provide the best service possible for our clients and that means using best-in-class procedures and methodologies, such as epFace," said alliantgroup CEO Dhaval Jadav.
Background
The Energy Efficient Commercial Building Deduction, also known as section 179D of the tax code, was legislated by Congress in 2005 in response to U.S. Department of Energy data that showed 73% of all electricity consumption was by buildings, with about half of that from commercial buildings.
alliantgroup's energy and engineering-based tax deductions service complements its research and development tax credit service for U.S. businesses. The software interface was developed by alliantgroup's Technology Development Team, which includes PhDs, software developers and engineers who have more than 100 years of combined experience in energy efficient building design and modeling.
With the development of epFace, alliantgroup has added yet another layer to its industry leading process in claiming 179D tax deductions allowable under the law for clients doing technical work related to energy efficient building design. This process already includes onsite inspections by industry specialists and a government relations team devoted to obtaining the allocation letters for tax deductions from buildings owned by government entities. Because of alliantgroup's rigorous process, the American Institute of Architects (AIA) named alliantgroup its exclusive partner for 179D and other tax services.
alliantgroup is a management consulting company with a mission to strengthen American businesses through reinvestment in innovation and job growth. We educate businesses, the industry groups that serve them and the accounting firms that advise them on federal and state credits and incentives that are legislated by our government to keep the U.S. competitive in the global landscape. We are proud to have helped over 20,000 businesses claim nearly $13 billion in credits and incentives. alliantgroup is headquartered in Houston, Texas with additional offices located in Austin, Boston, Chicago, Indianapolis, New York, Irvine, Sacramento, Washington, D.C.; and Bristol and London in the U.K. For more information, visit alliantgroup and engage with us on LinkedIn, Facebook, Twitter, and YouTube.