by Rick Lazio, alliantgroup Senior Vice President &
Rizwan Virani, alliantgroup Managing Director
February 11, 2019 | published in DevOps.com
In 2018, software development saw exponential growth in areas including blockchain technology and artificial intelligence, and the New Year has the potential to bring even more change through recent developments in automation, cybersecurity and legislation.
Software development professionals have a unique opportunity to leverage these new developments this year, and the first step in doing so is learning how their industry has been impacted.
Automation is undeniably looked at as an integral part of a software developer's workflow. From using it to avoid repeat coding to stress-testing for systems, automation holds an incredibly valuable place in a developer's world. In fact, recent data has shown that the percentage of development teams notautomating has dropped by more than 50 percent in the last two years, and teams that fully apply continuous integration (CI) now outnumber those that don't.
One key development that will carry forward into the New Year is the integration of DevOps with the cloud. Cloud-integrated DevOps "can create a bug report, generate script, perform calculations and test code," according to an article by CIO Applications.
Effectively Automating Results
The last year in automation also brought forth innovative artificial intelligence (AI) programming toolsthat use machine-learning algorithms to generate code using codebases developed by humans, as well as robotic process automation being used as a development platform for AI-driven apps.
Automation isn't the only area that software developers should focus on in 2019. Businesses around the world are falling victim to cyberattacks of all shapes and sizes. With advancements in technologies, these attacks are being more sophisticated and leading to breaches that at the most can cripple companies to the point of extinction and at the least create a serious scarring of consumer trust. According to the Poneman Institute's 2018 "Cost of a Data Breach" study for IBM, the average cost of a data breach for a U.S. company stands at a whopping $7.91 million.
With the advent of the internet of things (IoT), and the United States now being the No. 1 target globally for cyberattacks, software developers have the ability to help combat these devastating crimes. And, although developers can be the ones to lead the charge to help businesses utilize more effective cybersecurity mechanisms, the world of software development has its own vulnerabilities that cybercriminals have taken advantage of.
Making Safety the Priority
The truth is that nobody is safe from a cyberattack. Even behemoth companies that deal with tech and software development,  such as Facebook, have fallen victim to attack because of a lack of prioritizing cybersecurity. Effective security protocols can include using the cloud during the development process, along with having an awareness of the level of sensitivity of the data you're handling and protecting that data accordingly.
Furthermore, companies are now strengthening their cybersecurity efforts during the software development process by making a space for both the development and security teams to work together.
"These organizations are able to innovate faster, save costs and become more agile in dealing with news risks," said Chris Wysopal, chief technology officer at Veracode and Forbes contributor. "It all starts with recognition from business leaders that integrating security into their development processes is important."
Policies for the Benefit of Tech
Not only can software developers benefit from creating avenues to work in automation and cybersecurity, but taking advantage of policies coming out of Capitol Hill can also prove to help improve performance and business opportunities.
The Tax Cut and Jobs Act of 2017, which impacts tax years after Dec. 31, 2017, offers benefits for tech organizations that ultimately can create what agile companies need most: extra funds to put back into their business. Besides the enormous benefit for tech giants of overseas cash being taxed at only 15.5 percent, small- to midsize companies involved with tech can take advantage of the R&D Tax Credit.
This government incentive is particularly noteworthy for those in software development who are either building out and testing new software or improving existing software, as the IRS has viewed these activities as qualifying for the credit.
Whether developers are breaking new ground using automation or AI, the credit is an invaluable tool for a businesses looking for more money to put toward new technologies.
The realm of software development, with increasing competition and constantly advancing technologies, isn't the easiest field to thrive in. However, taking into account these developments and how they have impacted the industry can be the first step in seeing stronger performance in 2019.
Rick Lazio is a former U.S. Representative from New York serving in Congress from 1993-2001. While there, he became a strong advocate for small businesses by sponsoring the successful Small Business Tax Fairness Act. After Congress, Rick moved to the private sector working for JP Morgan Chase as a Managing Director and then Executive Vice President. Rick is committed to his continued interest and support of small to mid-sized businesses by brokering his insight and experience in the public and private sectors to provide strong incentives for job growth. This interest has extended into his civic and philanthropic work in New York with the Committee for Economic Development and the Association for a Better New York.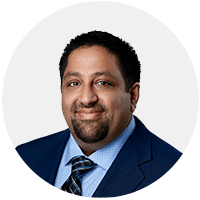 Rizwan Virani is a Senior Vice President in alliantgroup's Houston national office and oversees alliantgroup's Energy Incentives practice, which is comprised of energy modelers, engineers, and government relations professionals who help qualifying U.S. businesses claim the Energy-Efficient Commercial Building Tax Deduction (more commonly referred to as section 179D).
Rizwan is an experienced electrical engineer with prior experience in the semiconductor industry. He brings several years of experience and expertise in manufacturing technology, semiconductor process, electrical and mechanical hardware development, and fundamental engineering principals. Rizwan has worked with many of the world's leading semiconductor companies, such as Intel, Samsung, AMD, and Micron. His work involved developing semiconductor hardware and processes based on specifications and requirements defined by the client. Prior to joining alliantgroup, Rizwan was a project engineer and consultant for one of the largest semiconductor capital equipment makers.